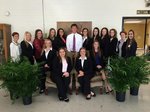 2014-2015 Company Picture
Virtual Enterprises International is an in-school entrepreneurship program and international business simulation that encourages students to exercise their potential through creating and managing a virtual business. Guided by a teacher and business mentors, students direct business with other firms nationally and internationally. Loretto High School runs the VE firm The Animal Kingdom, Inc. The Animal Kingdom, Inc. specializes in pet and pet-related products.
Business Plan Team
The Loretto High School Virtual Enterprise Business Plan Team completed in the Tennessee Western Region Business Plan Competition in Savannah, TN, where they won first place. The team then competed at the Tennessee State Finals where they received second place. This years team members include: Kayley Allen, Courtney King, Faith Smith, Emma Sanders, and Lauren Coggin.
Pet Food Drive
The Animal Kingdom, Inc. held a pet food drive to benefit the Lawrenceburg Animal Shelter. The class traveled to the shelter to deliver the food and were given a first-hand look at the wonderful work being done by Animal Control Officer Rene' Segraves. The group was given a tour and enjoyed the opportunity to interact with the special animals there.
NYC Trade Fair
On April 14th, The Animal Kingdom traveled to the Big Apple to attend the New York City Trade Fair. We revieced a Silver Award for Catalogue Competition and a Bronze Award for Website Competition.