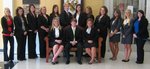 Virtual Enterprise employees for 2012-2013
Virtual Enterprises International is an in-school entrepreneurship program and international business simulation that encourages students to exercise their potential through creating and managing a virtual business. Guided by a teacher and business mentors, students direct business with other firms nationally and internationally. Loretto High School runs the VE firm The Animal Kingdom, Inc. The Animal Kingdom, Inc. specializes in pet and pet-related products.
On April 9th, The Animal Kingdom, Inc. employees will travel to New York City for the International Trade Fair. While in New York, The Animal Kingdom's business plan team will present their plan at the national level, after placing first in both the region and the state.